Welcome to Adam Begley Mosaics

First Off, our "Mosaics 101" wORKSHOPS FOR INDIVIDUALS AND GROUPS ARE OPEN FOR Enrollment For the October through April SESSIONs SO CONTACT US IF YOU WOULD LIKE TO LEARN MOSAICS!
​One Week Sessions $300 per person $ 200 per person in groups 2 or more
(see the workshops section in this website ).

My name is Adam phillip Begley, I am a 25 year PROFESSIONAL mosaic tile artist working in the design and installation of CUSTOM, hand-MADE mosaic images in the form of framed and wall hung art, Interior Decorating for Cottages and Homes in a Mosaic Design, with or without tile or stone.

Our BATHROOMS, SHOWERS, BACKSPLASHES, FLOORS and FIREPLACES, IN TILE OR STONE,
with an inset, hand made moasaic are popular choices for people wanting something
new or ancient looking in their KITCHENS, LAUNDRIES, AND MORE. See the
"Grand Central Station" mosaic we installed for a busy kitchen in the
"ARCHITECTURAL SECTION" of THIS WEBSITE FOR photos and more info.

So, we do commerical work, we offer mosaics classes, we are constantly working on mosaic art for gallery promotion, art contests, art fairs and more and we invite you to contact us if you feel we can help you with your particular interest in the topic of mosacis.

​OUR Commerccial PRICING VARIES AS WE TREAT EACH JOB QUOTATION
ACCORDING TO THE ACTUAL REQUIREMENTS OF WHAT IT IS YOU MAY HAVE IN MIND
BUT OUR GENERAL QUOTES WILL ALWAYS BE "PARTS,TIME & LABOR."

If you would like to (A) purchase a custom mosaic, (B) Purchase something still available in the
"MOSAIC ART Gallery" section of our web site or, (C) even order a "RE-MAKE" of one of the
"previously sold" items (ALSO found in the "MOSAIC GALLERY" SECTION); please let us know.

Ask us about the Week-long "Stay and do Mosaics" workshops
Offered at the good harbor guest house, the studio is right next door
and it's perfect for Adults, Kids, Families or groups.
see the "Mosaics 101" Page in this website for more on that!



thank you for visiting OUR website and feel free to contact us by going to the
section of this website entitled, "SAY SOMETHING."

sincerely,


Adam Phillip Begley
Adam Begley Mosaic Design
955 South Manitou Trail
Good Harbor Bay, Michigan 49653

231-256-2117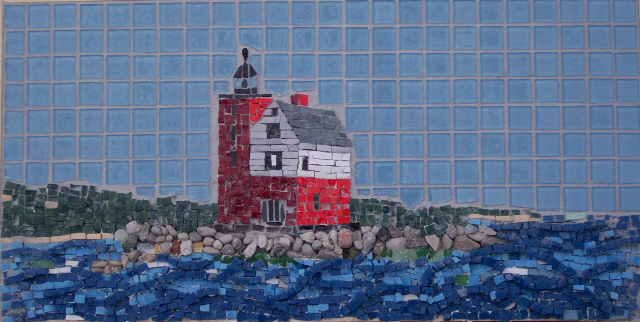 THE ROUND ISLAND LIGHTHOUSE: Located at the entrance to Mackinac Island's Harbor.