"MOSAICS 101" Intro to Traditional Mosaic Art


The mosaic classes are $ 300 per person or $ 250 per person for groups over 2 persons. The completion of the course takes six days of one hour sessions.

Option 1: You live locally and would like to do your six sessions depending
upon your schedule and the six days straight is not required.

Option 2: You would like to take the course six days straight while you
are staying in the area.

Option 3: You would like to take the course six days straight while you
stay at our private, Good Harbor Guest House on our property.
Click
HERE
for the official Mosaics 101 Course ​Description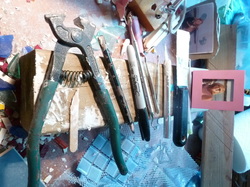 MOSAICS 101 Workshop tools and materials will be provided.



---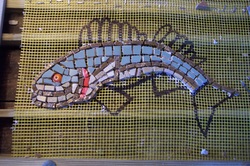 Photo of the "ON MESH" technique.


You can expect to complete something of this size and take it home framed and ready to hang,

---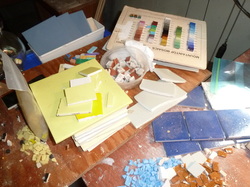 Many colorful materials to work with, again included in your workshop fee.
---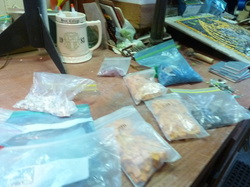 Ceramic Glass, Imported Italian Glass and American Tile
plus anything you can find on the beach (within reason)
can be used.

---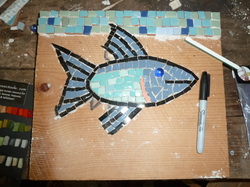 So Many Possibilities and a great way to challenge the brain.

Adults are our most common student however we have done "just kids" sessions for 2 or more kids and also a "Mom and Kid" or "Dad and Kid" or Just "Dad" sessions where everyone else leaves to do something else.
---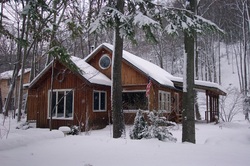 You can stay at our Good Harbor Guest House AND attend the mosaics classes with our
"Stay and Do Mosaics" Package.

Others can arrange for doing the one week courses as daily transients if they have lodging
elsewhere or even live nearby.

This is the Good Harbor Guest House during the winter and afternoons are available for snowshoeing,
cross country skiing, snowmobiling, beach combing or reconnoitering the Leelanau Peninsula.
---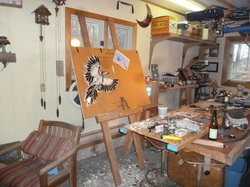 Here is a photo of the studio and a progress shot from a current Adam Begley Mosaic on an easel.

We have plenty of work surfaces as the Mosaic 101 projects are all done on table top.


People find a place to work around this 30 X 30 foot heated studio and get busy making their first mosaic.

Some people who have done mosaic work before will receive a more advanced lesson than the "101" version but at the same price per student.
---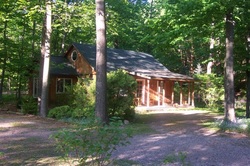 And this is the Good Harbor Guest House in the Summer, tucked in the shade and, there are many paths right out the back door where guests can hike into a real Lake Michigan Coastal Forest and many other paths up and down the Good Harbor Coast that lead to panoramic lookouts over Lake Michigan and or sublic or secluded beaches.
---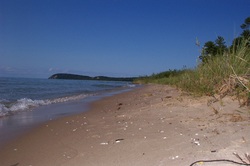 This is looking North along the Good Harbor Shoreline of Lake Michigan and this is a calm day......
That's Whaleback Point in the distance and around that point is Leland.
In
"FISHTOWN" visit the coolest Home Accouterments Store Ever called "
Greta's"
and so much more.
For more info on Leland, go to
www.
lelandmi
.com
and find out about all the really great restaurants we have up here, the unique specialty shops, the cheeses, breads, entertainment, art galleries, wineries, dunes....
---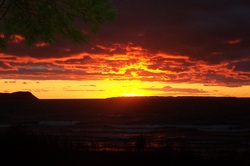 ............................
and The Best Sunsets !!!
If you would like to just come up and stay at the Good Harbor Guest House and skip out on the Mosaic Course we can still accommodate you as this clean and fully furnished home is a Vacation Rental Property all year around and the Mosaic Courses can always be an add-on to any season's particular price as they do vary quite a bit between the Peak Season (Late June - July and August) and the "off season." So, Please feel free to look up our info on the "Good Harbor Guest House" (and other rental properties) at our website:
short-termlodging.com
for more details.
---